Team Downer visits HMAS Adelaide
23/03/2021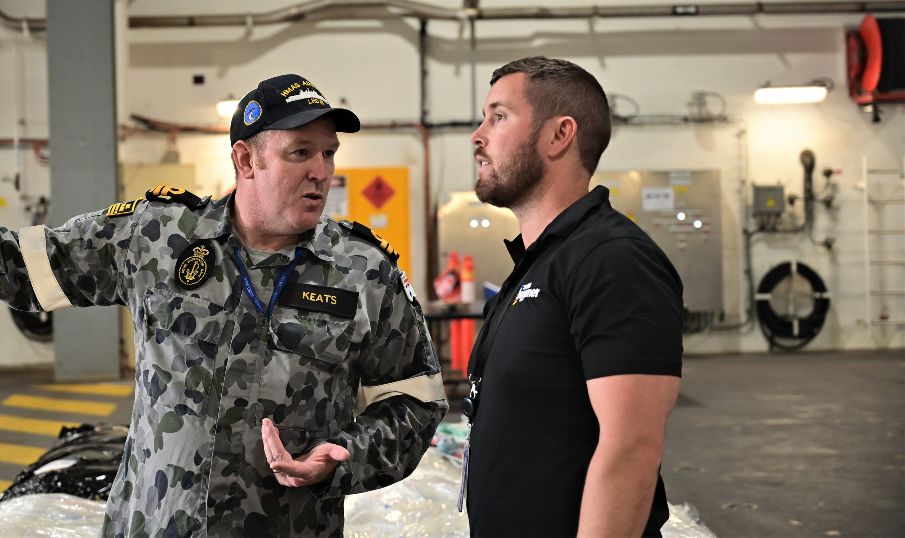 Downer's defence consortium – Team Downer Major Service Provider (MSP) – was recently invited to take a tour aboard the Landing Helicopter Dock ship, HMAS Adelaide, by the ship's captain, Captain Stuart Watters. The ship was docked in Sydney at Garden Island.
"Team Downer was grateful to accept Captain Watters invitation to tour the ship," said Team Downer's General Manager, Chris Lovejoy.
"It was an excellent opportunity for our people get onboard the ship and view firsthand such an impressive example of the Navy capability that our work contributes to," said Lovejoy.
"The scale and feel of HMAS Adelaide, along with the engagement with the crew, really brought home the relevance of what goes into the work we do in supporting the acquisition and sustainment of ships."
Downer has been supporting Defence for 80 years, beginning with Downer companies constructing ships in the 1940s, and Team Downer continues that legacy in the 21st century through it contemporary work in a number of domains, including the maritime domain, with Team Downer contractors working around the country on a number of maritime projects for CASG including in the Maritime Support, Specialist Ships, Major Surface Ships and Naval Construction branches. Team Downer also supports CASG's implementation of Plan Galileo across Australia to meet Navy's strategic vessel sustainment needs.
"A special thank you goes to the Captain Watters and his crew who provided us with a first hand experience of the LHD's capability and an appreciation of their role in supporting operation Fiji Assist 2020 following Tropical Cyclone Yasa," said Lovejoy.
As Major Service Provider to CASG, Team Downer provides 'above the line' contracting services; delivering project management, workforce planning and other professional expertise in partnership with Australia's small-to-medium enterprises.