Restoring power to Mallacoota Airport
22/01/2020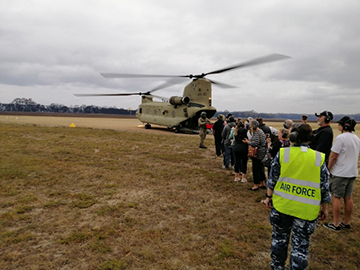 Images of residents and holidaymakers trapped under blood red skies on the beach at Mallacoota, Victoria, became a haunting symbol of Australia's bushfire crisis in January.
With roads in and out of the popular Victorian tourist spot blocked, the largest civilian maritime evacuation in Australia's history was required.
Members of the Downer's Utilities team worked closely with the Australia Defence Force to provide power to Mallacoota Airport, which enabled the ADF to conduct night flights once the initial smoke cleared.
Karl Thorvardson from our Electricity Distribution Networks team was flown into the airport via a Black Hawk helicopter to connect the generator to power the airfield lighting, allowing the airport to get back online quickly and for the night flights to occur.
"It is inspiring to know our people across Downer are working hard and doing what they can to support the authorities and rescue operations," Executive General Manager of Utilities, Trevor Cohen, said. "I'd like to thank everyone for their tireless efforts in restoring the infrastructure in these impacted communities devastated by the fires."