Quick thinking saves Greenbank homes from grass fire
31/01/2020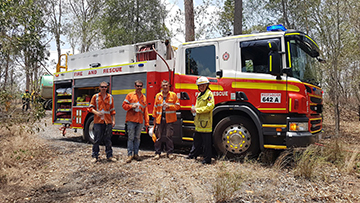 The catastrophic Australian bushfires have dominated headlines and devastated communities over the summer.
But thanks to some quick thinking from Downer's Construction Supervisor, Steve Kapernick, the south Brisbane suburb of Greenbank did join the list of places affected by the most recent bushfire crisis.
Steve, who is part of our Utilities business, is a construction supervisor working on the Logan Water Infrastructure Alliance (LWIA) project. He was driving through Greenbank recently when he noticed two elderly people using a garden hose to fight a grass fire, which is believed to have started when a grass-slasher struck a rock and caused a spark to ignite.
Steve stopped to assist the elderly pair and called the Queensland Fire and Emergency Services (QFES), then phoned staff from our delivery partners, Rob Carr and Diona, who were working nearby, to come and help extinguish the fire. The project water cart was used to help the QFES extinguish the fire before it could wreak havoc on nearby homes.
Steve was commended for his quick-thinking approach to what could have developed into a disaster for locals. But he modestly says he "was simply in the right place at the right time and was glad to provide assistance".
"This highlights the importance of Downer's 'Our Safety Focus' message – to constantly be aware of our surroundings at work," Downer's General Manager, Water Services North, Chris Yeats, says. "It is everyone's responsibility to keep ourselves, our delivery partners, our customers and the community safe. Well done, Steve, and Michael Croke (Diona) and Mark McDonald (Rob Carr) for orchestrating such a rapid response to extinguish the fire."