Downer awards first HCMT contract
05/04/2017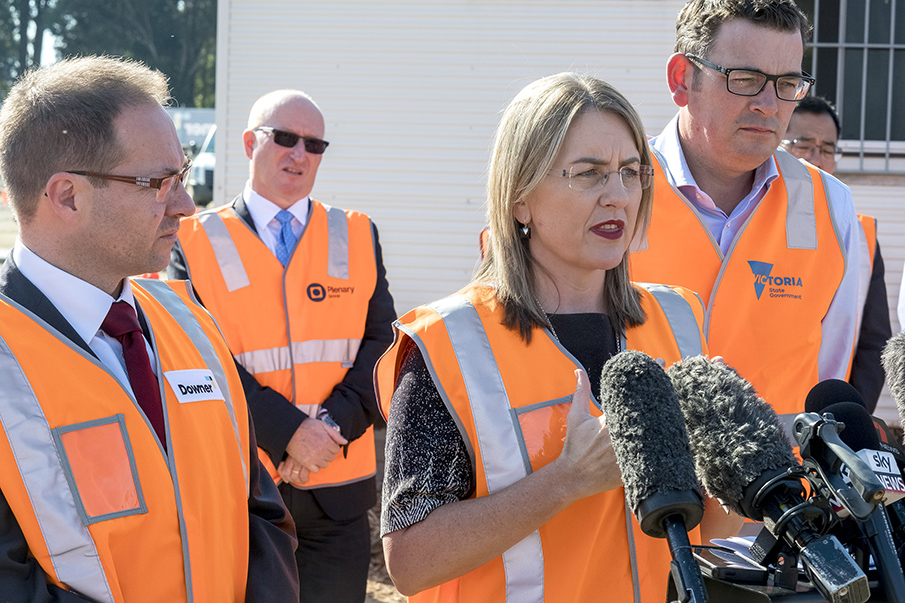 Yesterday the Victorian Premier, Daniel Andrews, announced Downer has awarded the first major contract on the $2.3 billion High Capacity Metro Trains Project (HCMT).
The contract has been awarded to a leading Melbourne-based civil construction company, Civilex.
Downer Infrastructure Services is building the HCMT Depot – a maintenance facility and stabling yards for Melbourne's next generation metropolitan fleet.
The Victorian Premier and the Victorian Public Transport Minister, Jacinta Allan, visited the depot construction site on a 118-hectare parcel of land in Pakenham East at the end of the Cranbourne Pakenham train line, to inspect construction activities, meet Downer construction workers and congratulate Civilex.
Sergio Cinerari, the CEO of Infrastructure Services at Downer, said the depot was on track to be delivered in time for the manufacturing of the trains to start at Downer's Newport facility early next year and testing and commissioning of the new trains to begin in late 2018.

"Evolution Rail, comprising of Downer, CRRC Changchun and Plenary, is proud to be partnering with the State of Victoria on the HCMT project to build 65 state-of-the-art, world-class trains that will drive the transformation of Melbourne's public transport system," Mr Cinerari said.
"As part of the delivery of the new trains, Downer is building a depot in Pakenham East. The depot will include maintenance facilities, a stabling yard and a train simulator, and will have the flexibility to cater for the future train maintenance needs of the network.
"The Depot build will achieve 87 per cent local content and create more than 100 long-term jobs. During construction peak, there will be 400 workers on site."

Mr Cinerari said Downer has appointed Civilex to deliver bulk-earthworks, internal roads, and drainage on the depot project. The work will take about five months to complete and create between 30 and 40 jobs.
"The HCMT project is on track to deliver new trains for Melbourne and new jobs and investment for all Victorians," Mr Cinerari said. "We are building the new fleet for Victorians and by Victorians."
More than 200 Victorian SMEs attended a Downer industry engagement event in Pakenham last Thursday. An HCMT depot ICN Gateway page is now live at www.hcmtdepot.icn.org.auand currently lists 10 work packages for expressions of interest from potential local suppliers. A similar page will soon go live for fleet procurement.

(Pictured above is the Victorian Premier and the Victorian Public Transport Minister, Jacinta Allan)
For further information please contact:
Manika Naidoo, Downer External Affairs and Communications Director, 0413 850 156