Focus on safety a winner for people and pocket
08/06/2021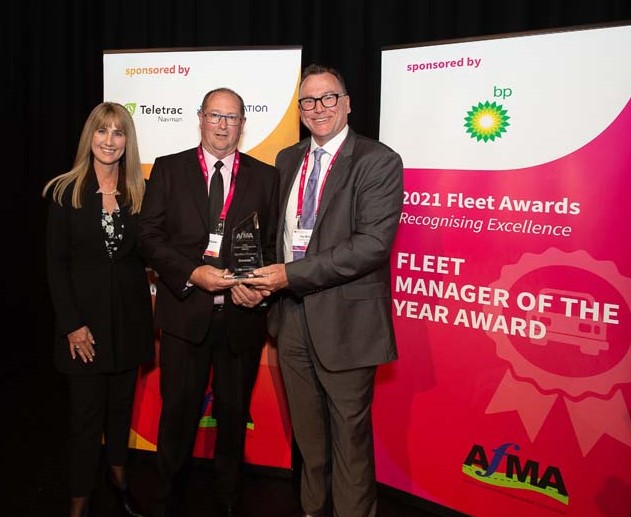 Congratulations to Matthew Ogilvie, Fleet Coordinator Defence, who has been awarded the Australasian Fleet Management Association 2021 award for Safety.
Faced with the complexity 63 different vehicle configurations and a lack of standardisation, Matthew worked with Larry Green and Murray Brown from Light Vehicles to implement a comprehensive program to standardise the entire fleet of approximately 600-700 vehicles with a focus on Zero Harm. It resulted in the standardisation of accessories, safety controls, supported by a strong driver behaviour program.
All vehicles were fitted out with In Vehicle Monitoring system (IVMS) units. The IVMS is a GPS-based tracking unit that records driver speeds, acceleration, braking, swerving, sudden stops as well as location. The data collected from these units was fundamental in helping the team understand and take initiatives to improve the overall fleet performance.
The fleet went from 63 different vehicle configurations, down to 13 and reduced the annual fleet replacement cost by more than $1.6 million. The environment is also a winner too, with fuel savings of seven percent and an increase of 14 per cent in tyre life.
Speaking about the initiative, Matthew said that he was most proud of the IVMS. "We end up with cost savings along the way and a much safer fleet, and everyone gets home." In accepting the award, Matthew commended his leaders and the executive team for supporting this initiative from the top.
Murray Brown, Downer's Group Manager Light Vehicles and Asset Leasing, in congratulating Mathew said: "I don't know anyone that puts more passion and commitment into doing the things that we need to do to make sure our people and the vehicles they drive are safe."
Downer has invested heavily in equipping its light and heavy fleet with IVMS. If we can realise the same level of success demonstrated by Matt and the team then the benefits to Downer and its drivers will be very significant. IVMS dashboard reporting in Downer has now been in place for around six months. The main aim of the IVMS program is to make sure we know where our vehicles are and that our people are safe. However, the significant potential financial benefits cannot be ignored.
The central fleet teams will work closely with operational teams to identify opportunities to improve the fleet performance and reduce our running costs.
It was a big two days for Downer with Claire Bendall from the Central Light Vehicle Team graduating and receiving her Leadership in Fleet Management Diploma.
You can watch the video to learn more.