Eyre Peninsula Link major construction works underway
20/05/2021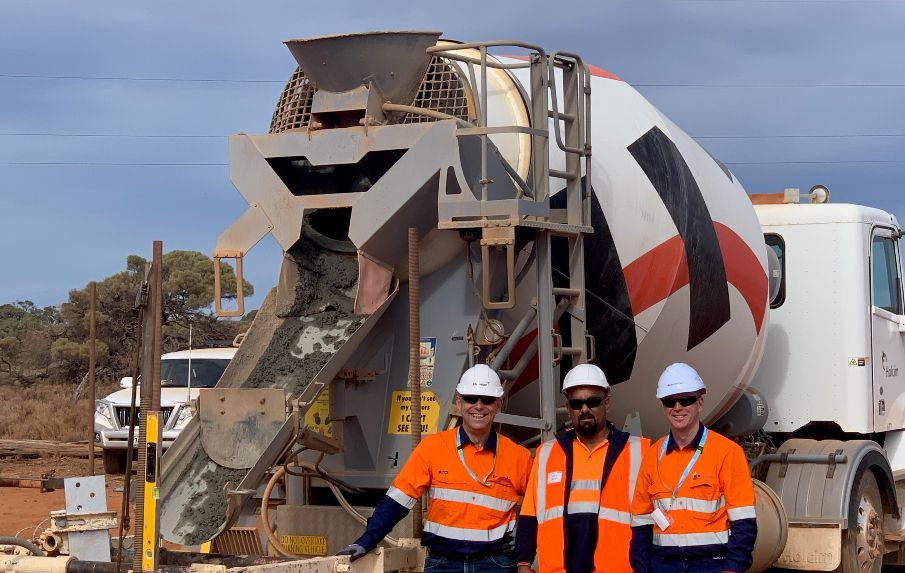 The first of 500 sets of concrete foundations were poured on the Eyre Peninsula Link project for ElectraNet today.
ElectraNet and Downer hosted an event onsite in Whyalla, Eyre Peninsula with ElectraNet Chief Executive, Steve Masters, Downer's Chief Operating Officer Australian Operations, Sergio Cinerari and Chair of Barngarla Determination Aboriginal Corporation, Jason Bilney initiating the first concrete foundation for the project.
Attendees at the event included members from Local Council, Member for Flinders, Federal Member of Grey, CEOs, Mayors, ElectraNet, Downer staff, contractors and Barngarla representatives.
Chief Operating Officer of Downer, Sergio Cinerari, said: "Downer is a leader in power infrastructure in Australia with specific expertise in transmission line and substation design and construction."
"This contract strengthens Downer's 20-year history of providing services to ElectraNet and its presence in the South Australian power sector, supporting up to 300 employment opportunities for the people of South Australia."
Downer has awarded major subcontracts to local civil contractors, transport, quarry material, concrete, crane providers and is continuing to engage in other contracts as the construction progresses.
Downer would like to thank the Barngarla Determination Aboriginal Corporation (BDAC) and its members for their ongoing collaboration and support in sharing their knowledge and culture with our workforce and recognise the service they continue to provide with monitoring and identification of the culturally sensitive areas along the construction route. The level of knowledge and care for their traditional lands provided by the BDAC heritage monitors team has provided Downer great assurance to tread respectfully as we traverse across the Barngarla land in the delivery of this project.
The project is expected to be completed by December 2022.