Downer teams volunteer to help vulnerable people
17/03/2021

Teams of Downer employees traded pens for paintbrushes last week to take part in Habitat for Humanity's Homes of Hope volunteering day.
Homes of Hope takes place every International Women's Day, with Habitat for Humanity mobilising corporate volunteers to refurbish and restore women's crisis accommodation and transitional shelter.
Approximately 30 employees from corporate and operational sites in Queensland, South Australia and New South Wales volunteered their time to help improve the lives of vulnerable people in some of our communities.
Our volunteers painted, made repairs, and completed gardening to ensure women and other vulnerable groups have safe and comfortable accommodation.
Throughout the day, our teams got to learn more about the diverse groups they were helping, such as women experiencing domestic violence and homelessness, women affected by bushfires, and at-risk Aboriginal and Torres Strait Islander community members.
"We were tasked to paint the walls and doors of a two-floor unit, which is home to a domestic violence victim and her five children," said Learning & Development Project Partner in Downer's Technology & Communication Services business, Shenuka Fernando (pictured below, left, with Engineering Officer - TCS FTTC, Hemalatha Carasala).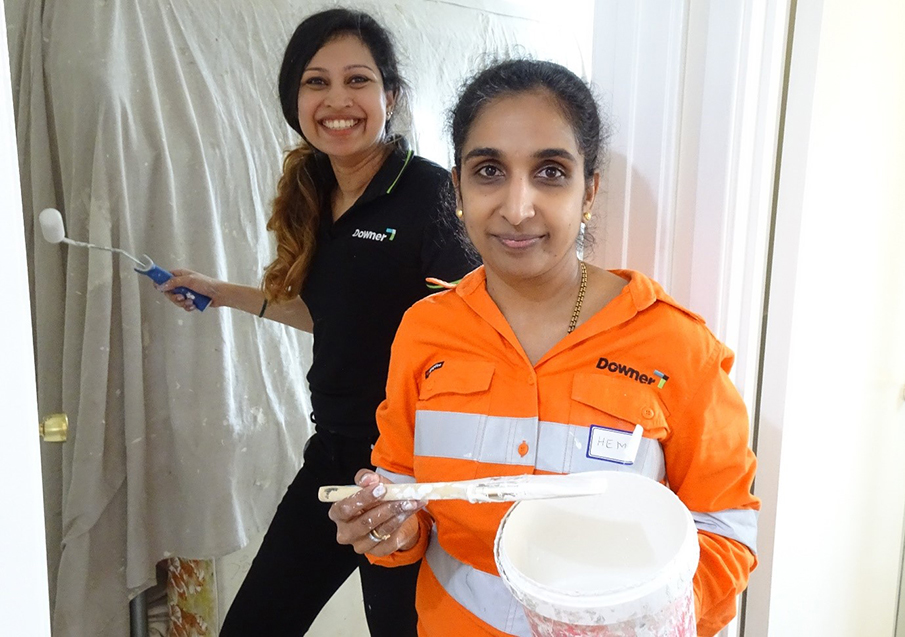 "We really hope we managed to make a small difference to the mother and her family by brightening up their space and making their living conditions a little bit more comfortable. Often we forget how fortunate we are and it was definitely a great opportunity to give back a little to the community and help those in such situations that need support the most.
"I think we did manage to pull it off in the end… although I think I managed to get more paint on me than on the places where I was supposed to!
"Kudos to (Supply Chain Advisor, T&CS) Geoff Carpenter, though, for being the second supervisor in charge and working hard to re-paint most of the surface edges to make sure they were neatened up."
It was also a great team-building exercise for our people.
"It allowed different functions within Downer to network during the day," Doug Sanders, Lead Planner – EC MEIP, from our Mineral Technologies business, said. "By the end of the day we had learned a lot about what others do in the business."
For Executive Assistant for Pavements, Jana Matei, it was a great opportunity to give back to her community.
"We all had a wonderful time rolling up our sleeves and helping", Jana said. "Such a good cause."
Downer is proud to demonstrate our commitment to inclusion by working with Habitat for Humanity, an Australia-wide non-profit dedicated to building greater outcomes for community by ensuring the provision of safe and decent shelter to vulnerable groups.
You can find out more about their work here.