Downer Road Science and EnviroNZ solving the growing waste plastic problem
17/07/2019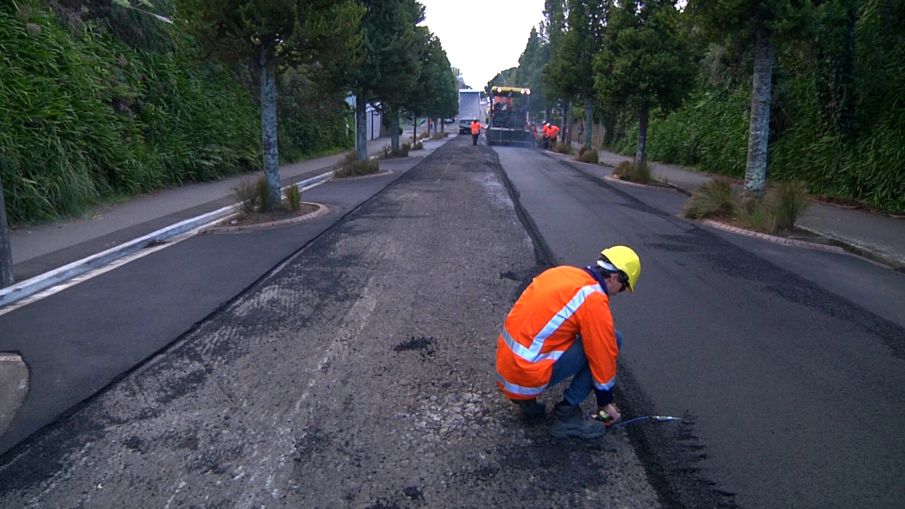 In 2018, China closed its boarders to the acceptance of other country's waste plastic. This has created a serious problem for New Zealand, as plastic is being stockpiled with very few ways of repurposing it.
Downer and New Plymouth District Council worked together to address their growing waste plastic problem. The local authority had an existing partnership with EnviroNZ and together engaged Downer's Road Science team to come up with a ground-breaking solution - Plas Mix. Plas Mix is raw shredded plastic that goes into asphalt.
Downer laboratories identified the optimum plastic mix and the size needed for a successful product. It is then laid and paved in the same way a traditional asphalt. The outcome means waste is successfully repurposed while not compromising the integrity of the pavement solutions.
Glen Jones, Commercial Manager at EnviroNZ, said: "The main benefits of using recycled plastic in roading is that it prevents waste going to landfill. It also eliminates the need to transport and ship these materials thousands of kilometres overseas for processing, which significantly reduces our carbon footprint."
A secondary benefit found in testing was that the performance of asphaltic road surfacing was enhanced by adding plastic, especially in areas of waterproofing and rutting.
Downer was recently awarded a 10-year New Plymouth District Council Term Maintenance contract, covering urban and rural roads in the district and including road maintenance, CBD cleaning, water and wastewater reticulation renewals and small to medium bridge maintenance.
With a unique focus on sustainability and a clear commitment to safety, this contract presented the right opportunity for the first large-scale trial of Plas Mix.
The trial consumed 500 kilograms of hard plastic waste in 100M2 of road. This is the equivalent of plastic waste that 1,300 people would generate in a week.

Common types of hard plastics included containers for margarine, yogurt, cottage cheese, butter, and bottles for cleaning products such as Jif, dishwasher powder bottles, polystyrene packing and coloured juice bottles.
Murray Robertson from Road Science said: "Downer and the Road Science team are committed to providing innovative solutions for New Zealand's roading market. Developing practical and cost effective solutions to sustainability challenges remains front and centre for our team. Reducing solid waste from entering landfill, while also reducing our carbon footprint and providing high quality cost effective outcomes, is a challenging yet motivating assignment for us."