Lighting up Sydney Opera House
20/07/2017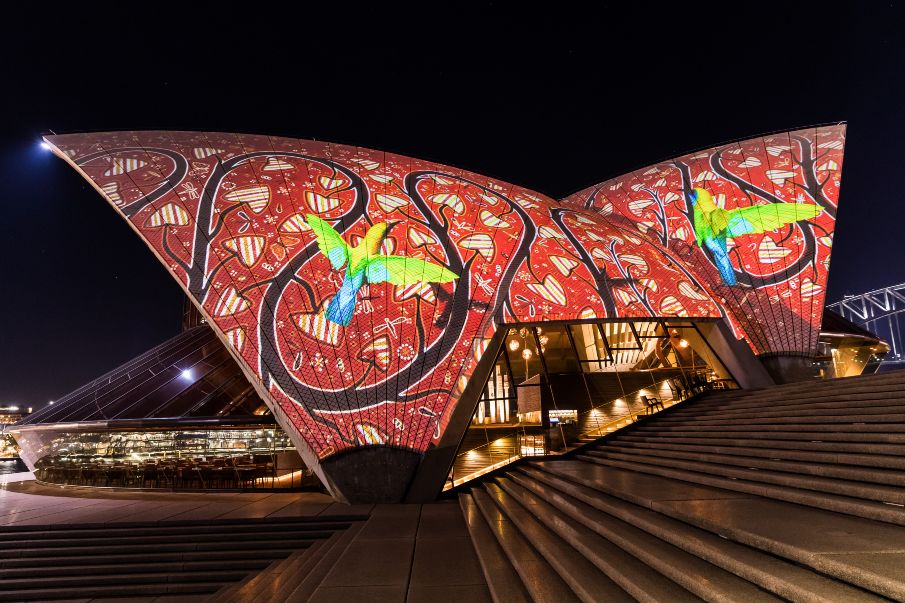 Downer has partnered with the Sydney Opera House to create Badu Gili.
Badu Gili is a spectacular light installation which takes place daily at sunset.
Badu Gili – meaning 'water light' in the language of the traditional owners of Bennelong Point, the Gadigal people – is a new daily experience that will explore ancient First Nations stories in a spectacular seven-minute projection, illuminating the Opera House's eastern Bennelong sail year-round at sunset and 7pm.
Downer worked in close partnership with the Sydney Opera House, designing the installation and coordination of the projector, steel fabrication and cabling network for the lightshow.
A celebration of the rich history and contemporary vibrancy of Australia's First Nations culture
Badu Gili continues the traditions of Bennelong Point, formerly known as Tubowgule, which has been a meeting place for the local Gadigal people for thousands of years.
Commenting on the launch, Sydney Opera House CEO Louise Herron AM said: "The Opera House is Australia's best-known meeting place for culture, story-telling and ceremony. In that, we continue a truly ancient tradition. We hope Badu Gili will become an essential Sydney cultural experience for both visitors and the local community that will foster and celebrate a shared sense of belonging for all Australians."
Sydney Opera House, Project Manager, Samantha Swain said: "The Sydney Opera House has a longstanding relationship with Downer. The project team did an outstanding job to work within the existing site constraints and deliver the infrastructure for this project, we are very pleased that we were able to meet such a significant launch date."
Curated by the Opera House's Head of First Nations Programming, Rhoda Roberts AO, the projections weave together the work of five eminent First Nations artists from across Australia and the Torres Strait Islands, Jenuarrie (Judith Warrie), Frances Belle Parker, Alick Tipoti and the late Lin Onus and Minnie Pwerle.
Badu Gili was launched to coincide with the 50th anniversary of the 1967 Referendum, on the eve of NAIDOC Week and the Opera House's world premiere of Bangarra Dance Theatre's new production, Bennelong.
Congratulations to our Operations, Maintenance (OM&S) and Services Central NSW team who delivered a great result for Badu Gili and for their innovative work with the lightshow.