Albert Park Grand Prix Circuit gets Downer makeover
19/04/2021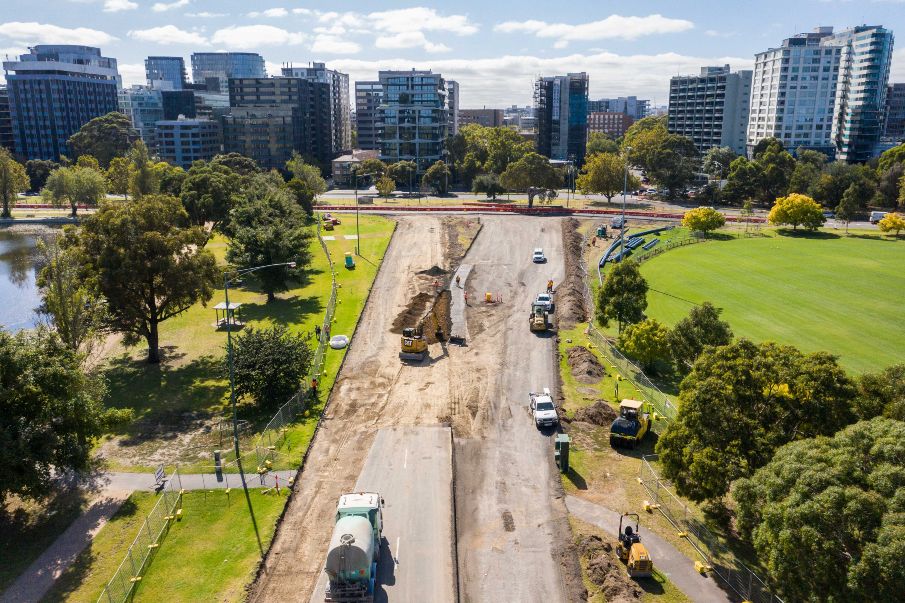 Bringing our work to the world stage, Downer's Airports and Specialised pavements team in Road Services, in conjunction with our Victorian Pavement Rehab and Surfacing businesses, have commenced work on the Formula 1® Grand Prix racetrack at Albert Park, Victoria.
Our work will reconfigure a number of corners on the track, including civils work and the laying of Downer's own asphalt mix design, similar to what has been used at the Phillip Island racetrack.
The changes to the configuration of the track involve widening four corners and realigning two corners which will involve significant civils and electrical work. This will result in faster cornering speeds and increased overtaking opportunities, which will be exciting for spectators and drivers alike. This work builds on Downer's previous works on the track in December 2020 where we widened the existing pit lane to enable the speed limit to be increased through the pit lane, which will potentially result in faster pit stops. In fact, Downer was first involved in work at the track in 1995, where, working as a sub-contractor, we designed, supplied and laid the entire racing surface. In a major innovation at the time, Downer completed the surface comprising 4,500 tonnes of asphalt in two days and used techniques to eliminate joints, resulting in a faster track.
Making the track as sustainable as possible, Downer will also source recycled construction materials for the subbase of the road from Repurpose It, which is 50 per cent owned by Downer, and will be recycling the existing asphalt that we need to remove as part of the works.
Owen Thorpe, Project Manager for the works, said he was excited to finally be part of such an iconic project which has been a long time in the making. "We have been working with the Australian Grand Prix Corporation for some years now, and it's great to finally see the project come to life," he said.
"Showcasing Downer's specialist pavement and surfacing skills on the world stage brings a special kind of pride to the whole team working on the job," said Owen.
The work is currently underway and is scheduled to be complete in mid-2021, in time for the rescheduled race staged from 18-21 November 2021, with further improvements inclusive of the full track resurfacing, using an internationally developed asphalt scheduled for after this race.
Downer has a 30-year history of delivering high quality racetrack pavements. Our history also includes work on the Hidden Valley Motorsports Complex near Darwin, The Bend Motorsport Park in South Australia, and the Phillip Island Grand Prix Circuit in Victoria.