Meet Bryce.
Apprentice at Downer's Maryborough Service Delivery Centre in Queensland.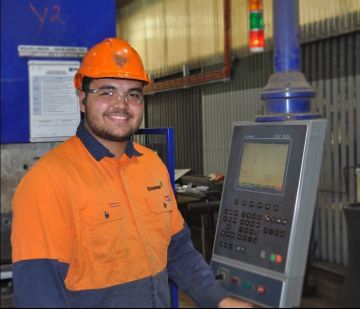 In January 2020, Downer's Maryborough Service Delivery Centre welcomed thirteen new apprentices to work at the historic rail manufacturing facility, including first-year coppersmith apprentice Bryce Hobson.
Born in Maryborough, Bryce has lived all over Queensland, from Mt Isa to Chinchilla, but he still calls the Heritage City home. So, when his family moved back to the area and it came time to look for work, Downer's rail workshop was an obvious choice.
"I was doing a trade at school, and I was looking for an apprenticeship, Downer was open, and I was moving back to Maryborough, so it looked perfect to see if I could apply for that role,"
"I love welding, it's just the love of it and now I get to do it every day here at work," he said.
A proud Wakka Wakka Wulli Wulli man from a large family, Bryce spends his days off with his Dad and three younger siblings and plays footy for the local team.
Bryce hopes he can be a positive role model for any young person looking to start a trade.
His advice for people thinking about applying for an apprenticeship with Downer is to "get a lot of outside information – from your parents, from your teacher, from your work experience. And when you apply you just need to listen, everyone says stuff that might be useful in a couple of years."
Downer is committed to growing a workforce for the future in regional Queensland, supporting people like Bryce pave their way in an exciting career.