DOWNER SIGNS MOU WITH HYUNDAI ROTEM AND HANWHA DEFENSE AUSTRALIA FOR SUPPLY CHAIN DEVELOPMENT
01/04/2022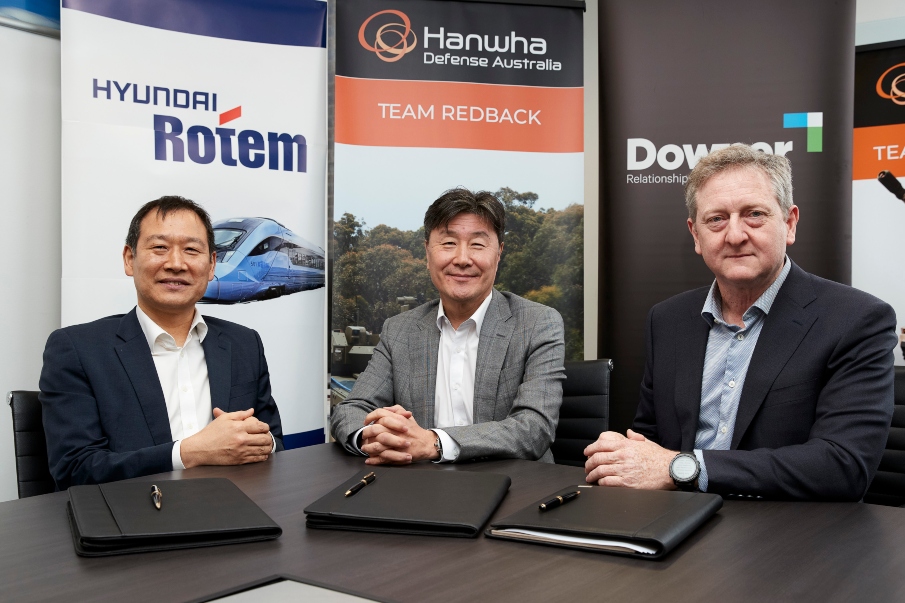 Downer, Hyundai Rotem and Hanwha Defense Australia have agreed an MoU to work together for the purposes of developing a sustainable and inclusive Australian supply chain, whilst bringing together their complimentary experience to advance broader strategic interests relating to the Australia-Korea relationship.
As part of this agreement, the companies will participate in a series of workshops to share lessons learned and enable identification of synergies among the respective companies' supply chains.
The companies' involvement is intended to help identify additional Australian businesses to participate in their respective manufacturing, project delivery and through-life support activities, and to enable the generation of scale in delivering initiatives that seek to attract, retain and grow manufacturing capability and expertise in Australia, whilst deepening connections between Australian and Korean industry.
The companies will facilitate introductions with relevant supply partners within each of their respective supply chains, as well as seek to mutually support supplier uplift initiatives, skilling and workforce development programs. Collaboration on these common areas of interest is intended to reinforce each company's own programs and activities and to maximise collective impact of investments in developing industrial capability for the future.
"Downer has a proud history of delivering local industry participation in Australia, and we are excited by the opportunity to broaden our capability and deepen our relationship with Korean industry partners in Hyundai Rotem and Hanwha Defense Australia."
Grant Fenn – Downer Group CEO
"We've watched Hanwha Defense Australia's activity in the Australian market and we've been impressed by what they have achieved in the past couple of years. We are fortunate to be able to leverage their recent and highly relevant experiences in the Defence market place to support our teams and our projects."
Il Yeon Cho – Hyundai Rotem MD in Australia
"One of Hanwha's objectives for Australia is to develop a resilient and competitive supply chain that is there to support us and our key customer, the Australian Defence Force, over the decades to come. To expose our supply chain to opportunities in other sectors, and to facilitate adjacent business opportunities and continued collaboration with Korean industry, enables us to deliver on this objective."
Richard Cho – MD Hanwha Defense Australia
About Downer
Downer is the leading provider of integrated services in Australia and New Zealand and customers are at the heart of everything it does. It exists to create and sustain the modern environment and its promise is to work closely with its customers to help them succeed, using world-leading insights and solutions to design, build and sustain assets, infrastructure and facilities. For more information visit downergroup.com.
About Hyundai-Rotem
Hyundai Rotem is a South Korean company manufacturing rolling stock, defense products and plant equipment. It has set up a branch in Australia since 2016 is planning to expand its business capability.
About Hanwha Defense Australia
Hanwha Defense Australia is a subsidiary of Hanwha Defense Corporation which is a division of the vast Republic of Korea Fortune 500 conglomerate Hanwha Corporation. Hanwha Corporation has been operating in Australia since 2005 in areas including mining equipment, logistics and alternative energy.
Headquartered in Melbourne, Hanwha Defense Australia was established in 2019 with an initial focus on Land Systems. The company has been contracted for project Land 8116, a $0.9 to $1.3 billion project which will see the Commonwealth acquire self-propelled artillery systems to be manufactured in the Greater Geelong area of Victoria.
For further information please contact:
Downer – Adam Williams, +61 411 659 273, adam.williams@downergroup.com
Hyundai-Rotem – Arnold Aranjo, +61 438 506 729, arnold.aranjo@hyundai-rotem.co.kr
Hanwha Defense Australia – Daniel Cotterill, +61 488 294 966, daniel.cotterill@hanwha-defence.com.au