Turning human waste into energy
12/10/2020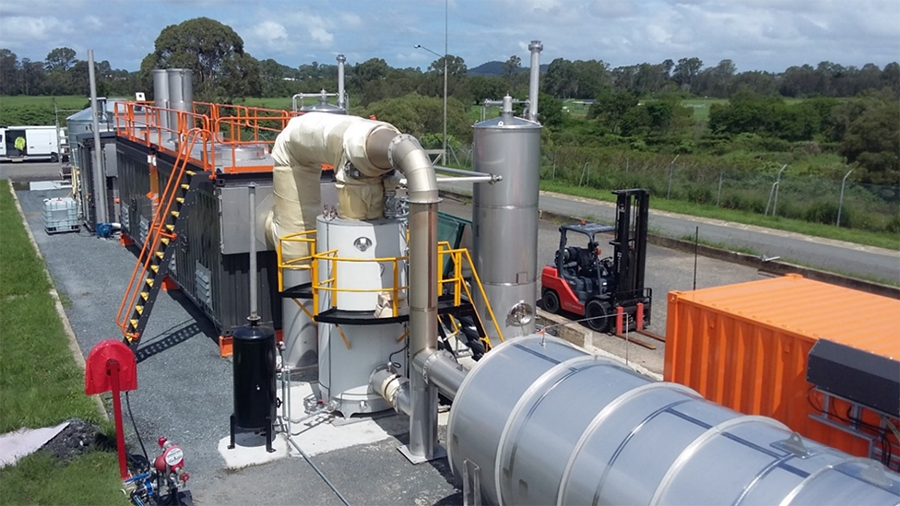 Downer has partnered with our customer Logan City Council and delivery partner Pyrocal to create an Australian first by successfully turning biosolids (sewage sludge) into renewable energy and a sustainable biochar product at the Loganholme Wastewater Treatment Plant (WWTP).
Since February 2020, we have been trialling the process that involves drying and gasification of biosolids at high temperatures to produce a biochar which can be used for agricultural purposes.
The Australian Renewable Energy Agency (ARENA) awarded Logan City Council a $6 million grant to develop the Loganholme WWTP biosolids gasification demonstration facility. A full scale biosolids gasification facility will now be constructed at Loganholme WWTP in 2021.
The trial has received global attention and has the potential to transform municipal sewage treatment in Australia.
The Loganholme WWTP services 300,000 people in the Logan region, producing 34,000 tonnes of biosolids per year – an average of 90 tonnes a day. Every day, three trucks are required to transport biosolids 300 kilometres to the Darling Downs agricultural area to be used as a soil improver, at an annual cost of approximately $1.8 million. In addition, biosolids treatment and disposal costs are increasing due to rising electricity prices, increasing population, and the likely tightening of regulations associated with carbon reduction and managing persistent organic pollutants in soils.
The biosolids gasification facility trial successfully demonstrated how sewage sludge can be dewatered, dried and then treated with high temperatures in a low-oxygen environment to produce biogas. Recovered energy in the biogas is used to power the drying and heating processes. The gasification facility is energy neutral, with 70 per cent of the energy in biosolids recovered and reused, and the remaining energy sourced from an onsite solar power system.
The gasification facility will reduce the volume of biosolids by 90 per cent and produce a safe, environmentally-friendly biochar, which is a soil conditioner that can be added to potting mix, providing a sustainable solution for the waste product. The gasification process also reduces CO2 output by 4,800 tonnes annually and prevents organic pollutants from entering the soil. Logan City Council will explore opportunities to market this biochar in the future.
The facility will significantly reduce the disposal of biosolids, saving approximately $500,000 in operating costs annually. Bioenergy produced from organic waste will also reduce energy input requirements to the facility.
Biosolids gasification will also reduce the carbon footprint of the WWTP as carbon is sequestered in the biochar.
The technology is relatively simple and equipment can be fitted to existing or new WWTPs.
This has attracted interest from renewable energy companies and municipal councils around the world.
"This is a game-changer for the industry and it was developed and trialled right here in Logan," said Logan City Council Infrastructure Committee Chair Cr Teresa Lane. "Using synthetic gas in this way is something that hasn't been tried before, so a lot of people have been watching to see how it would pan out."
Downer is proud to have partnered with Logan Water on this innovative project, which was made possible by our long-term industry collaboration with Pyrocal.
"Downer is a long-standing partner in Logan Water's public and private sector partnership, having delivered water and wastewater infrastructure for the Logan region over the past 11 years with program partners WSP and Cardno," Downer's General Manager – Water Services North Chris Yeats, said.
"Our partnership with Logan Water and with Pyrocal has enabled this innovative and potentially industry-changing technology to be successfully trialled and now built. A number of the major authorities and Councils around Australia have been closely watching this initiative so reaching this milestone is both exciting and significant.
"We are committed to delivering world-leading insights and solutions, and it has been fantastic to collaborate on this trial with partners who also value innovation and sustainability."
If anyone in the industry has further queries about this technology, they can contact Downer's Manager Engineering and Assets, Robert Martinovic, on 0427 657 518 or Robert.MARTINOVIC@downergroup.com