Ladell's inspiring work journey: "I grabbed my work boots, my bag and a tent and flew to Perth."
05/06/2020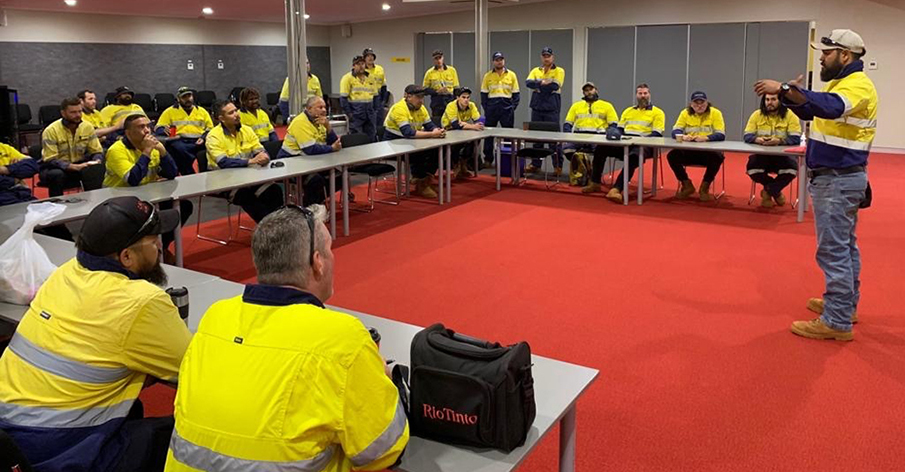 Six years ago, Ladell Nakachi kissed his partner and new-born son goodbye and left his home in Cairns, North Queensland, in search of an opportunity.
He got on a plane and flew to the other side country, arriving in Perth with a tent to live in, $500 to live off and a determination to make a better life for his family.
"I am a qualified carpenter but around the time my partner had our first-born, the business I was working for closed," Ladell says.
"I said to my partner, 'I have a responsibility, I need to go find work. Have faith in me and see how I go'. I grabbed my work boots, my bag and a tent."
The tent would be his home for the next three months.
"I lived at the Midland Caravan Park with a tent and a blanket – living day by day and sending whatever money I had back to my family in Cairns," Ladell says.
"My partner played a big role in supporting me. We stuck together and knew what our purpose was. We had a goal to buy a house in Cairns, and I wanted an opportunity to change my career from carpentry to rail infrastructure."
Two months after moving to Perth, that opportunity came up at Downer.
"I interviewed Ladell when he applied for the job and the minute he walked out the door, I knew we would give him an offer," Downer's WA Operations Manager, Glenn Donaldson, says. "His attitude was one of, 'Give me a crack – you can give me the lowest job in the team, I just want to work my way up. I am loyal and I will put in the effort. I am just looking for a chance'."
A chance was all Ladell needed. After starting as a Track Worker at Kwinana in Downer's South West maintenance team, he has worked on various projects in both rail and road construction, across various regions in WA, being promoted to Leading Hand, then Foreman and now Site Supervisor of one of Downer's largest rail maintenance teams in the country at Rio Tinto's Tom Price mine in the Pilbara region of WA.
He upgraded from the tent to a house after joining Downer and reunited his family, moving his partner and son over to Western Australia to live with him. When his second son came along nearly three years ago, the family returned to Cairns to be closer to their family support network, with Ladell shifting to a FIFO working arrangement.
A key pillar of Downer's talent recruitment and retention strategy is to ensure our people are better for having worked at Downer. Ladell's journey is a shining example of this strategy in action.
"Looking back at the stages and projects I have been involved in at Downer, it has all made me the person I am today," Ladell says.
But this isn't just a story about employer helping employee. Downer has been both benefactor and beneficiary in this relationship. The company has supported and invested in Ladell, and been rewarded with an engaged team member who has developed into an effective team leader.
"One of the things that stands out to me is, over the years Ladell has stayed loyal to our team and our business, and the business has stayed loyal to him," Glenn says. "We have had the opportunity to see a career flourish as a result. It's a great message that when we do work together – employee and the organisation – some incredible things can happen. Ladell's attitude towards work has always been a willingness to do whatever is required to help the business. We have tried to make sure we keep Ladell moving forward and developing him and giving him opportunities, which he has taken with both hands."
Ladell's inspiring journey hit another milestone this month, when we won the Civil Contractors Federation WA's Indigenous Trainee of the Year award after completing his Cert III – Rail Infrastructure.
"I was going through my emails and one read, 'You are the Employee of the Year award winner'. I didn't think it was 100 percent real," Ladell says. "I actually deleted the email, thinking it was spam. Then my Project Manager rang me to tell me it was legitimate.
"I was very surprised. For me it was a reflection of what I've achieved – it has been a really good journey. The award really means a lot to me, and especially my partner because she has been my support system. She has been my rock. Without her, I wouldn't be where I am now, and we wouldn't have been able to buy our house in Cairns."