Having generational impact with our longest and newest serving staff
12/05/2022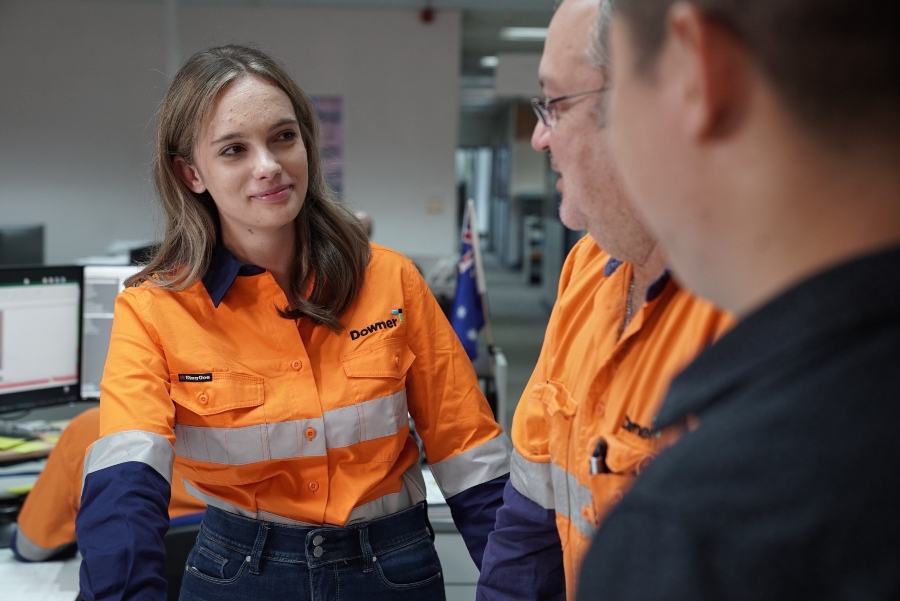 When hosting the longest and newest serving staff in one room, there's nearly 600 years of experience. With such a wealth of experience, our Maryborough rail facility team hopes to share knowledge and wisdom.
With 73 years of service between them, Tony McGrath, Boilermaker, and Mark Smith, Store Person, are two of Maryborough's longer serving staff members. Each joined Downer's Maryborough rail facility in the mid-1980's.
For Tony, what kept him coming back for 36 years was the stability. "This job has given me stability. I've been able to bring up three children in the community and haven't had any concerns or stresses about not having employment," he said.
"It's also fantastic to work with my neighbours and friends. A lot of the people at this facility have lived in Maryborough their whole lives. I've been groomsman for some or attended their wedding or their child's christening. There's a real community spirit here."
For Mark, who celebrates 37 years of service, it's not only the comradery, but the challenge of the work that he enjoys. "It's just a great place to work. With the comradery and the work I do, it gives me satisfaction in coming to work every day."
In March 2022, the facility bought the longest serving staff, like Tony and Mark, together with the newest serving staff, including 20 new apprentices that started at the beginning of the year. Collectively, there was up to 600 years of experience in the room. By bringing the two groups together, the hope was for the longer serving staff to pass on experiences and knowledge over lunch.
Kaylah Behrens and Shellah Lin are two of the newest, havingboth started with Downer at the beginning of 2022. Kaylah is a mechanical designer trainee and from Maryborough. With a side business in designing earnings, she knew she wanted to be in design. "My husband is an engineer here at Downer's Maryborough site, so he actually encouraged me to apply for the traineeship. I had been looking at design courses to study, and then saw the traineeship on Seek so applied."
It's not just her husband who's a familiar face for Kaylah, "there's so many familiar faces here. Some from church, some because I'm from Maryborough. It's made it more comfortable starting here, because I know people. But even without knowing people, everyone is really nice. I have a great supervisor which also helps!"
For Shellah, this is her first full time job since graduating year 12 in 2021. Knowing she wanted to do something hands on and engaging, an apprenticeship as a Fitter and Turner/Machinist was the perfect option for her.
"I love being engaged and learning while actually completing the job, rather than just learning from the books. As a Fitter and Turner/Machinist, there are two sides. The physical side where we take the bogies apart, using the rattle gun and lifting heavy items, with correct manual handling techniques of course, then there is a more mental side which involves maths, calculations and measurements to make sure we're within the tolerance for the job."
Although only a few months into her apprenticeship, Shellah is loving it, "it's so great. It's so engaging and grubby, I'm actually covered in bogie grease as we speak!", she laughs. "I also like the environment of the bogie shop. Everyone is very friendly."
In sharing their knowledge at the event in March, Tony and Mark would advise anyone starting out to just ask questions. "Just be very cautious. If you have any questions, go and ask your supervisor," Mark said.
Mark continued, "concentrate on your job, but if there's availability to step up the ladder, take it and go for it. Don't stand back.
"Get in and have a go and do the best you can, that's all that people can ask because they're the next generation taking over from us old guys," he laughs. "It's important to bring in the next generation. We're a pretty skilled workforce and we do good work so it's important to get young ones in to do the job".
For Tony he recommends keeping your options open, "if you start as apprentice there's still plenty of venues to branch out into other areas. I started as a Boilermaker apprentice and haven't worked in that trade for 15 years!" he laughs.
"For anyone starting out their career, watch, listen and learn. Listen to advice, talk to the older people, don't hesitate to ask questions – there are no silly questions."
For Kaylah she found the lunch very good and wishes she was able to speak to more of the longer serving staff. "I spoke with about four people and we mostly talked about how they started out. But one of the ladies I spoke to at the event is now someone I speak to regularly. If I'm walking past her desk, I'll stop and have a chat, so it's nice to build those networks at work from people not necessarily in your direct team."
For Shellah she enjoyed the opportunity, "having all the people that have been at Downer for 30 plus years in the room together makes you realise how mush wisdom and knowledge there is here because of how long they've been working."
If you're interested in a career in rail, our Maryborough Service Delivery Centre is hiring. We have positions to fill across trades, engineering and professional services. To learn more visit: downergroup.com/Maryborough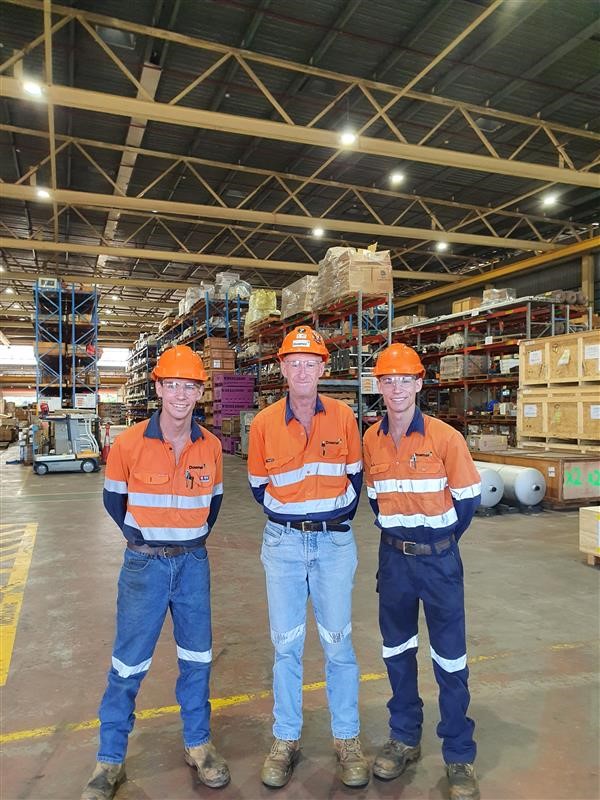 Mark Smith, with two of our newest starters, Jackson and Harrison Kemp
Tony McGrath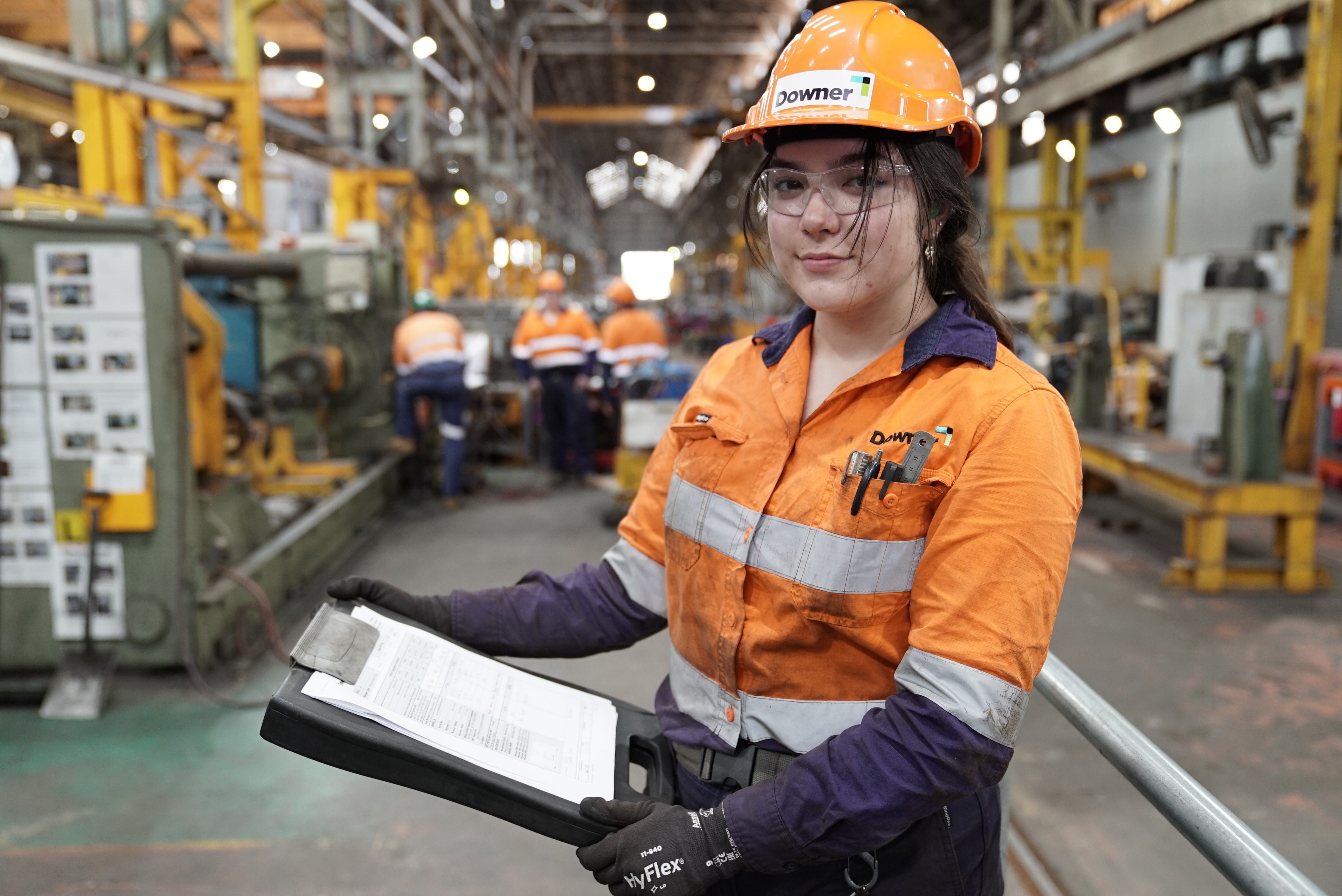 Shellah Lin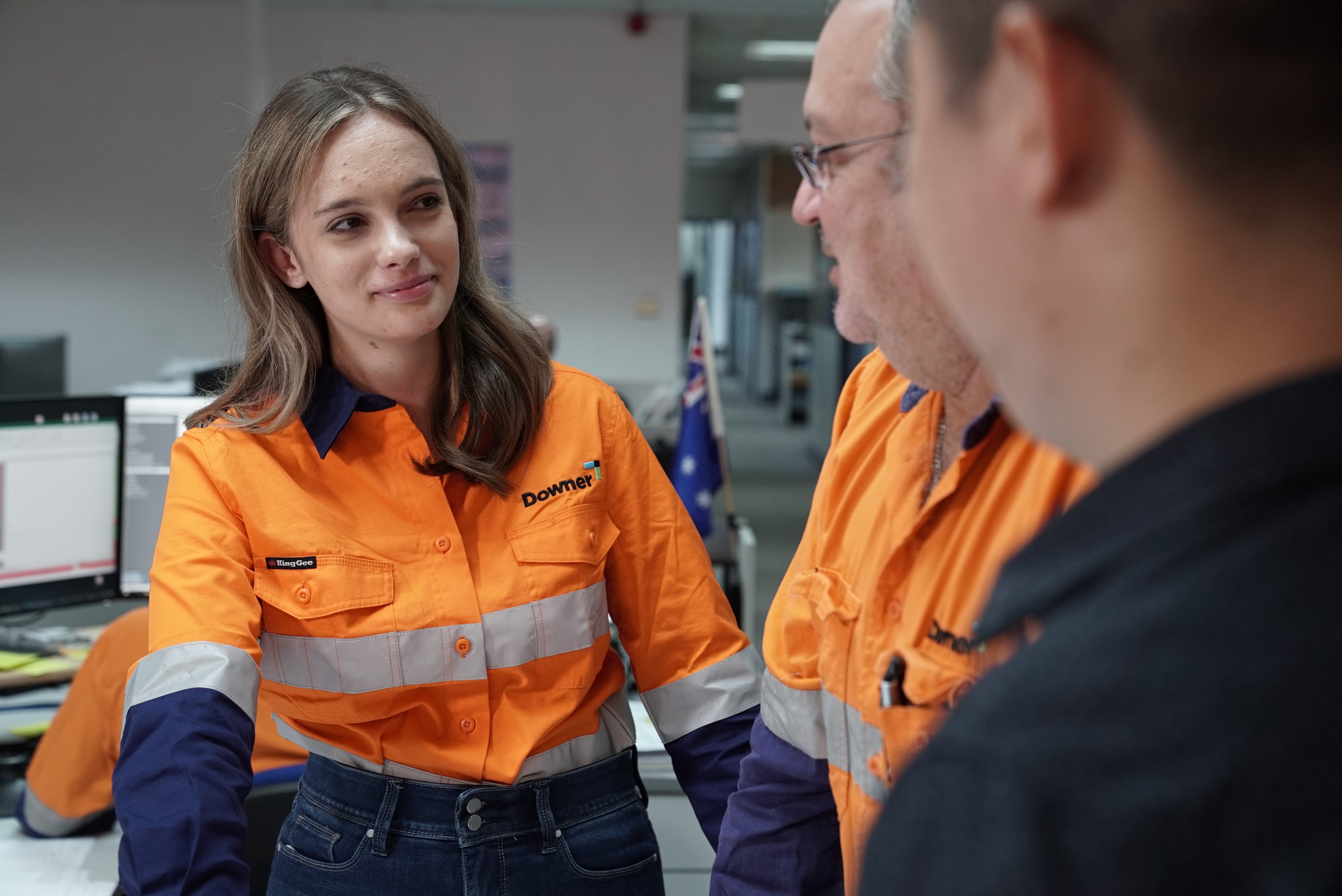 Kaylah Behrens